"An N-registered Aeronca Sedan in Switzerland?", you might wonder. Yes, for historical reasons we want our Sedan to retain its original US registration, even though it is permanently based in Switzerland, Europe. When serial number (S/N) 15AC-371 was rolled off the Aeronca assembly line, in 1949, it already carried the markings N1331H on its wings and rudder. In our opinion, it would be a shame for such a classic aircraft to loose its original numbers.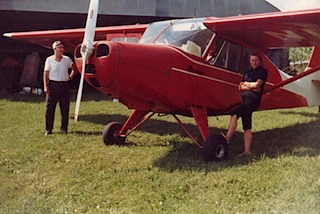 N1331H in 1965 © The Mikkelson Family
Click on picture to enlarge
Interesting enough, the manufacturing date is not embossed into the data plate, which is mounted to the baggage compartment sidewall. We have observed this detail on other aircraft, too – not only Aeroncas. (If you know more about the reason for such an omission, please contact us; we would be interested to learn.) N1331H's history can be found in the FAA archive, though, and clearly states the date built as April 8, 1949.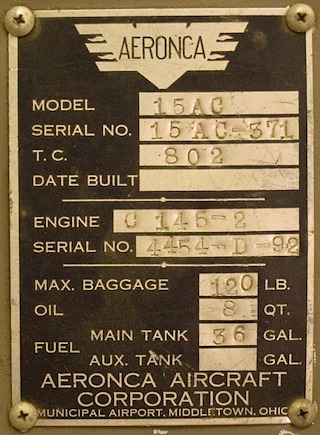 N1331H Data Plate © Matthias Sieber
Click on picture to enlarge
Peter Mikkelson of Lake Crystal, Minnesota,
the longest-time owner and pilot of this Sedan, was
a farmer and passionate hunter who used his plane for recreational flying and as an airborne platform for hunting in Canada. In September of 1981, he was unfortunate and hit a corn crib, during take-off from his private grass strip (See transcript of NTSB report at bottom of page). The pilot and his passengers survived the accident with only minor injuries. Although, in Peter's case, this meant back aches that he would never really recover from, until his death in 1988.
"Pete" Mikkelson © The Mikkelson Family
Click on picture to enlarge
N1331H was badly damaged and had to be dismantled on site. Then, the remains were sold to Dan Soehren, at that time chief of maintenance with the New Ulm Flight Service at nearby New Ulm airport. About one year later, the pieces of the once proud bird changed hands, again. They were acquired by Wayne Tranby, a commercial pilot from North Dakota, who intended to rebuild the plane with his parents and brothers. As it so often happens, the years flew by, with Wayne not finding the time to actually tackle the job and N1331H sadly sitting in a hangar, awaiting a brighter future.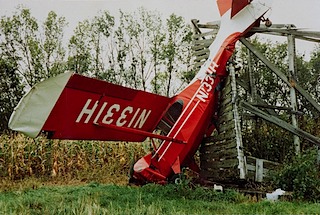 The Accident © The Mikkelson Family
Click on picture to enlarge
It took 21 years, before that change would come its way:
In Fall of 2002, Matt took a trip to North Dakota and Minnesota to inspect three potentially interesting Sedan projects. N1331H was chosen, purchased and a few months later shipped to Switzerland, where the plane would be stored for another two years, before the
Restoration Process
began in May of 2005.
Waiting to be restored, Des Lacs, North Dakota © Matthias Sieber
Click on picture to enlarge
NTSB Identification: CHI81DER66
14 CFR Part 91 General Aviation
Event occurred Sunday, September 06, 1981 in LAKE CRYSTAL, MN
Aircraft: AERONCA 15AC, registration: N1331H
----------------------------------------------------------------------------------------
FILE: 3-2935

   
DATE: 6 SEPTEMBER, 1981
TIME: 1400         
LOCATION: LAKE CRYSTAL,MN

         



AIRCRAFT TYPE: AERONCA 15AC
AIRCRAFT REGISTRATION: N1331H
DAMAGE: SUBSTANTIAL     



INJURIES CREW: 1 MINOR/NO
INJURIES PAX: 3 MINOR/NO
INJURIES OTHERS: NONE      



FLIGHT PURPOSE: PLEASURE/PERSONAL TRANSPORTATION                       



PILOT DATA: PRIVATE, AGE 74
PILOT HOURS: 360 TOTAL, 40 IN TYPE
PILOT RATINGS: NOT INSTRUMENT RATED




NAME OF AIRPORT: MIKKELSON PRIVATE




DEPARTURE POINT: 

LAKE CRYSTAL,MN




INTENDED DESTINATION: 

LAKE CRYSTAL,MN






TYPE OF ACCIDENT: 

COLLIDED WITH CROP




PHASE OF OPERATION: 

TAKEOFF, INITIAL CLIMB




PROBABLE CAUSE(S): PILOT IN COMMAND - IMPROPER OPERATION OF 

FLIGHT CONTROLS





















----------------------------------------------------------------------------------------