Charles Lindbergh's 1927 solo nonstop transatlantic flight from New York to Paris was a sensation and sparked a large interest in aviation worldwide. During November of 1928, the Aeronautical Corporation Of America (Aeronca) was founded in Cincinnati, Ohio, USA, with the intention of starting light aircraft mass production for the private owner and pilot.
The Aeronca Logo © Aeronca Corp.

Click on picture to enlarge
The company acquired the design rights to Mr. Jean Roche's successful single seat homebuilt aircraft.
In 1929, it became Aeronca's first aircraft design, called the C-2. Its engine delivered 29 hp!
Aeronca C-2 © Mike Henniger
Click on picture to enlarge
In 1935, the C-2 became the C-3 "Collegian", when a second seat in side by side configuration was added and a slightly stronger engine of 35 hp was installed. The later C-3 "Master" variant even offered an enclosed cockpit as well as an improved landing gear.
Aeronca C-3 © Unknown
Click on picture to enlarge
Between 1929 and 1951, Aeronca produced a total of 17'408 airplanes in 55 different models. It would be beyond the scope of this website to list all of them. But the most successful model, the 2-place 7AC "Champion", of which 7200 were built, cannot be left unmentioned. Currently, only two of them are flying here in Switzerland, HB-ETD and HB-ETF.
Aeronca 7AC Champion © Renato Burkhart
Click on picture to enlarge
The last model manufactured by Aeronca was the
15AC Sedan which this website is all about.
The picture below shows a Sedan, engine
running, on the Aeronca factory tarmac, in the year 1947.
To learn more about the Model 15AC, click
Here
.
Aeronca 15AC Sedan © Aeronca Corp.
Click on picture to enlarge
The original Aeronca factory was located at the Cincinnati Lunken airport, Ohio. In 1937, the great flood of the Ohio River drowned the roofs of all Aeronca buildings beneath several feet of water and caused major damage.
Luckily, most aircraft could be flown or hauled to safety, in time, but many airframes still fell victim to the water. Production resumed, only two months later! Nevertheless, the search was on for a
safer location. In 1940, Aeronca moved into the new plant at Middletown, Ohio, where production of airplanes continued, through 1950.
Although, the last Sedan left the factory only a year later, assembled from remaining stock by a few Aeronca employees for use in their company flying club.
Aeronca Factory, Middletown, Ohio, 1953 © Aeronca Corp.
Click on picture to enlarge
The Aeronca design, slightly modified, lived on, though: From the Champion Traveller and Challenger to the Bellanca Citabria, Scout and Decathlon and today's
American Champion Aircraft line of airplanes, all were derived from the 1940s Aeronca models.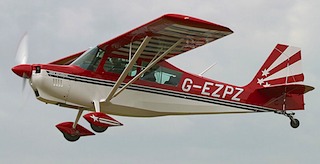 Bellanca Decathlon © Simon Thomas
Click on picture to enlarge
Work never ceased at the Middletown facilities, and the Aeronca DNA survives to this day! The company was
later renamed Aeronca, Inc. and acquired by Magellan Aerospace Corporation, resulting in today's name Magellan Aerospace, Middletown. It
remains successful. No longer as an aircraft manufacturer, but as a supplier of aircraft, jet engine and aerospace components, specialized in the production of lightweight, heat-resistant, vacuum-brazed honeycomb structures. Customers like Airbus, Boeing and the military count on these high-tech and high-quality parts from Middletown.
So, when you board a Boeing 737, a 747 or even an Airbus A380, you kind of fly in an Aeronca! :-)